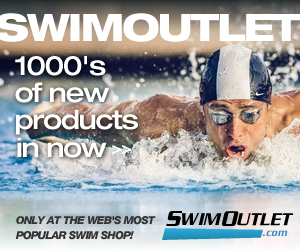 Marathon Swimming:  An Ultimate Passion

Is marathon swimming the same as long distance swimming?  Not exactly.

Those passionate about swimming know that there is a high that comes when you swim long distances. The charge and the thrill of open water swimming gets to them and before long, they are hoping they can become part of that exclusive and special swim community. This is a great challenge and you need to understand some important things to determine if it is right for you.
Commonly, marathon swimming is classified as being a type of open water swimming. Unlike the typical runner's marathon which is 26.2 miles, the distance of a swimming marathon is based on the individual event and it often takes into account tides, surface currents and other factors which can impact the swimmer and the ability to reach a certain point within a reasonable amount of time.
For a swim to be considered a marathon, it must include nonstop swimming in an open body of water that is at least 10 km in distance. However, some organizations list the minimum distance as being between anywhere from 15 km – 25 km. The Olympics for example accept the 10 km as an appropriate distance. According to Steve Munatones, author of Open Water Swimming, short distance open water swims are considered to be up to 5K (3.1 miles), middle distance swims are under 25K (15.5 miles), and marathon swims are over 25K (15.5 miles).
Since the Olympics chose the open water distance to be 10K (6.2 miles), it is interesting to note the time it takes for world class swimmers to complete this distance to the runners who complete the marathon (26.2 miles).  The interesting note is that the times are of 10K swimmers and 26.2 miles runners is almost the same.  But this is not just for world class athletes, the comparison can be applied to all caliber swimmers and runners around the world.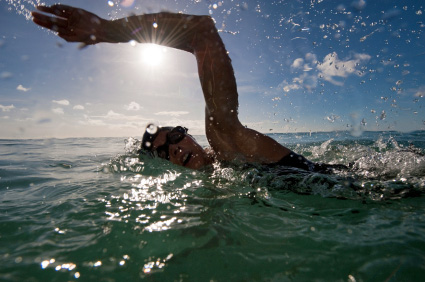 While looking at marathon swimming, you also need to understand that there are several different types of options out there that include traditional open water swimming. The most common and acknowledged types include:
Bay Swims

Cable Swims

Coastal Swims

Channel Swims

Cold Water Swims

Expedition Swims

Island Navigations

Lake Swims

Relay Swims

Straight Line Swims
While there are many types, the original marathon swimming began back in 1875 by a gentleman named Captain Matthew Webb. He is known as the first person to successfully swim across the English Channel. While his feat was indeed impressive, Gertrude Ederle is the most famous since she shattered previous records, was the first woman to swim the English Channel and did all of that using the crawl stroke.
The passion for open water swimming and even marathon swimming can also be found in some of the most elite clubs. These clubs of course require that you have authentic proof of the accomplishment and they can put you into their record books.
For example, the Oceans Seven Club is reserved for those who have swum the seven famous channels. Another club known as the Half Century Club is dedicated to marathon swimming enthusiasts who have managed to swim across the major channels of the world and are over the age of 50. Both groups are considered to be elite and if you are able to qualify for inclusion, they can add to your list of accomplishments that you have in life.
Of course, there are also the record holders out there that inspire all of us and have become legends in the swimming community. Let them inspire you to do your best and push yourself to your limits and to set your mind and body free when you are in the water. These incredible athletes include:
Alison Streeter – Fastest Ireland – Scotland Crossing

Kevin Murphy – Most crossings of the English Channel

Philip Rush- Fastest Two Way Crossing France – England – France
Keep in mind that with the exception of being the first person to accomplish something, most records have the possibility of being broken. It just takes hard work, dedication and a passion for swimming. Before you know it, everything else will eventually fall into place. If you are passionate about marathon swimming, take to the waters and let it set you free.
Today's Daily Swim Workout:
Warm-up:  500 swim of impeccable super slow tai-chi type technique, followed by 100 breaststroke kick, 200 Individual medley, 100 kick butterfly-on-back, 100 regular paced freestyle
Swim with long swim fins on 10 X 50 alternating backstroke and freestyle
Drill 200 choice of stroke
Pull with hand paddles 6 X 150 each as 25 breaststroke and 125 freestyle
16 X 25 alternating butterfly and freestyle
8 X 100 freestyle
200 best stoke
200 worst stroke
6 X 25 freestyle
Warm-down:  200 super-slow motion freestyle working on impeccable technique
Total is 4800 meters or yards depending on the pool measurements
back to the top of marathon swimming page


Don't just build a website, build a web business!
Beauty is just a click away! Visit me, your Independent Beauty Consultant.
---