Open Water Swimming Water Types
Open water swimming takes place in areas where there are large accumulations of water, whether natural or man-made. Some open swimming water types are ice cold, while others have very warm or tepid water. Whether they are static, have strong currents or contain water that moves from one place to another, open water swimming water types are part of endurance swimming and the marathon swimming community. This has become a popular recreational or competitive activity. Each body of water holds its own energy patterns and aquatic life, and they all offer unique challenges for human distance swimmers, like us. Anywhere that water exists, natural swimmers may be drawn to it and when it comes to open swimming water types, there are many possibilities, and they can be swum in any swimming stroke. Open water swim training can be a real challenge.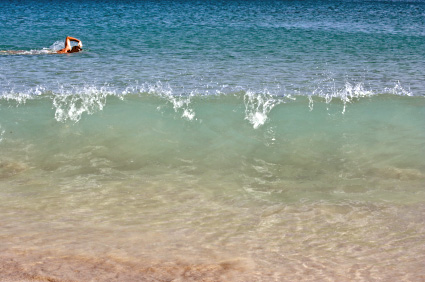 You may find competitions held in bays, seas, lakes, rivers, near dams and reservoirs, lagoons or canals and rowing basins. Each contains its own unique challenges or characteristics, besides containing different types of sea creatures, ocean life, salt water coral reefs and aquatic plant life. Here are definitions of various open water swimming water types:
Oceans or Seas:
Oceans or seas are known for some of the roughest waters, wind-driven surface chops, challenging and dangerous rip tides, currents or rising and sinking tides and varied ocean floor. You are likely to find all kinds of aquatic animal and plant life, with creatures such as jellyfish and sharks or whales and dolphins. There are all kinds of fish, corals, sponges and creatures that have never seen before. The energy of ocean can be tumultuous, yet rhythmic, but the saltwater allows you to float along the surface in gentle rocking motion, when calmer conditions exist. The energies of today's ancient oceans are natural healers.
Lakes:
Lakes are known as calmer waters, making them ideal for recreational boaters and small critters and fish that live in or near the water. As one of the gentler and less tumultuous open water swimming water types, lakes are preferred freshwater bodies of water that are only moderately-challenging. They can be relaxing and static, but they can also resemble oceans or seas, depending on the size and whether there are strong winds or bad storms in the area.
Rivers:
Rivers will contain definite currents, but they may be slow and lazy, with certain areas being faster-moving. There are some shallower rivers that are fast-moving, but there may be deeper and wider rivers with slower currents that move with great force. Many types of fish prefer rivers, especially for breeding and feeding. You may find large catfish on the muddy bottoms or see white bass spawning on the gravel-bottoms of clear, spring-fed rivers.
Bays:
Bays will also contain currents and marine life, but they are defined as a wide-mouthed body of water that is mostly surrounded by land. Resembling lakes in some characteristics, bays can also exist in a lake or a pond. Large bays offer access to sea waters, even though they are primarily surrounding by coastline. The land protects the bays from larger waves and stronger ocean winds, so it's considered a protected area from challenging waves or winds of the open water. For natural swimmers, these open swimming water types may be preferred for their calming energy.
Dams or Reservoirs:
Dams or reservoirs can be found in river valleys, since dams are built on rivers, to form a reservoir or artificial lake. They may include excavation, but they are often flooded valleys of timberland or wasteland. This means there may be underwater structure, especially in the formative years. There will be a current when the dam locks are open and free-flowing, but a lazy, reverse current may be felt, when they are closed. They provide gentle currents and static pools, where deeper water exists.
Canals or Rowing Basins:
Canals or rowing basins are popular open water swimming water types for competitions. They provide controlled conditions, but lack some of the challenges and interesting appeal of lakes or oceans. Usually, canals are man-made and may be used for boating or transport barges, but many open water events convert them to rowing basins, if they are shallow and uniform. Endurance swimmers may find u-shaped, boxed or straight canals and rowing basins, depending on the location and type of competition.
Fjords:
Fjords are long, narrow, deep-water inlets from the sea, bordered by steeply-carved cliffs or bluffs. They are formed by glacier-movement that cuts a u-shaped body of water into the bedrock base of a glacial valley. Open water endurance swimmers define their energy as strongly-focused and challenging, with saltwater rapids or extreme currents, due to rock-constricted seawater. They may be deeper than the adjacent sea and have a rise at the mouth of the inlet, with protected channels. Fjords are ideal for deep sea corals, anemones, fish and certain sharks that have adapted to greater water pressure and the deep, total darkness.
Just Finish
Open up to open water swimming and the open water endurance swimmer inside of you! Since there are many different open water swimming water types, you are likely to have easy access to one of them, without traveling very far. Natural swimmers may choose the energy-level of the water types that best suit their most desired mindset, however.
back to the top of open water swimming water types

Don't just build a website, build a web business!
Beauty is just a click away! Visit me, your Independent Beauty Consultant.