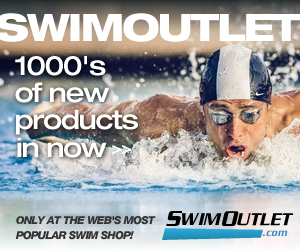 Swimming Workouts on a Daily Basis

Daily swimming workouts for this natural swimmer are just  exercise sessions that burn calories making it easier to eat and keep the strong, graceful swimmer/runner/race-walker physique.  It does not stress the body to the point that it is too hard on it.  Practice should be enjoyable and something to look forward to.  Intervals in time are rarely performed; instead there is always a concentration on some aspect of the swim stroke that achieves the least resistance thus becoming the most graceful in the pool.  The object is to slip through the water effortlessly, gracefully and with tremendous speed.  Instead of those stressful intervals, alternate strokes and freestyle drills with freestyle.  This makes the freestyle stronger after using the different muscles from the other strokes or freezing one freestyle position.

Seeking an energetic flow state is the goal of every practice session.  This is the energetic state where you spend time slowly warming up, finding what needs extra awareness this day and then allowing your intuitive knowledge to guide you to increasing intensities without straining to reach them.  The swimming workout becomes enjoyable.

Over 90% of Americans tell you that "good health" is a number one priority, yet only 15% exercise enough to reach that good health.  This is because they do not enjoy their exercise sessions.  The swim workout should be an enjoyable pastime.  Find harmony in this pastime and well-being is an outcome.

Today's Daily Swimming Workout:

Warm-up as 500 freestyle, working on gliding side to side, 100 breast stroke kick without a board working on gliding, 200 IM to get all the muscles, 100 butterfly kick on your back, 100 freestyle side kicking.
20 x 25 freestyle every 4th 25 backstroke starting on the first 25
12 x 50 alternating freestyle, all odd 50's are IM order drill
Hand-paddles on:  5 x 200 as 75 IM followed by 125 freestyle
50 butterfly, 150 freestyle;  200 backstroke;  50 breaststroke, 150 freestyle
200 freestyle warm-down
Total:  4100 meters or yards
More daily swim workouts can be found on these pages:

Open Water Swim Training in a Pool     Currents of Life
back to the top of swimming workout page


Don't just build a website, build a web business!
Beauty is just a click away! Visit me, your Independent Beauty Consultant.
---