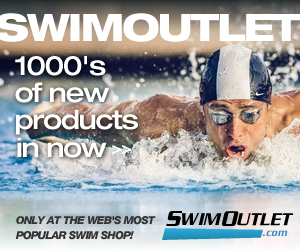 Your Swim Suits Needs

Swim suits are an essential part of swim gear for you as a swimmer. While you can find them in a number of patterns and designs, you need to be more focused on the material used and the cut that matches your swimming style the best.
Upon initial glance, you will find that there are luxury and competition swimsuits. While a luxury pair can be great when you are just swimming around the pool at home, competitive swimming suits will be better suited for gliding through the water and allowing you to reach your peak speed levels. You'll find that these suits can be found in styles like triathlon, bikini, tankini and similar cuts.
Swim Suits and Personal Preference
Being a female marathon swimmer, I know my personal preference is a polyester thick strap one piece for workout and practice. This is because it holds its shape and color, even when I am training for months. For leisure swimming, I tend to prefer it because it has a very sporty look when I am on vacation and enjoying some down time.
It is different when I am looking at long distance open water swims. For these, I prefer a regular spandex (lycra) or stretch polyester knee length suit with an open competitive swim back so my rear end does not get sunburned they look like triathlon suits but they don't have bike padding. I also do not like shelf bras built into the suit.
A male swimmer friend of mine who just works out prefers ankle length legging suits whereas other males I know prefer jammers that reach their knees. Male divers tend to prefer the little men bikini suits.
What you need to understand is that nylon dries fast and is designed to better fit the body with strong fibers. Spandex in turn offers elasticity which provides more maneuverability in the water. Polyester tends to be a poor choice for the competitive swimmer as it is designed to be more fashionable than functional. While cotton can be lightweight and comfortable but doesn't conform to the body and that can cause resistance.
But why are swimming suits important? In the water, what you are wearing can slow you down. The more resistance created by your suit, the slower you are going to be. When you have a swimsuit that is designed to glide through the water, you reduce drag and you are physically able to go faster. The right swimsuit can reduce your drag by nearly 15%. That means you can go faster and farther, with less effort in the water.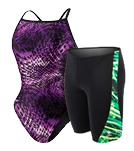 The desire to go faster and further in the water has inspired places like NASA to develop new swimsuits all the time. By looking at some of the ocean life out there, they are able to mimic their abilities in the swimsuits that they create. This goes beyond lycra which absorbs air and water and causes drag. In its place, they use polyurethane which dramatically reduces drag and allows a swimmer to naturally reach faster speeds easier. This has led to some controversy though. In 2008, Speedo and NASA worked together to create LZR swimsuits that helped swimmers to break three world records. FINA the group that governs swimming banned the use of controversial swim wear that designed solely for the purpose of speed.
Swimsuits are an essential part of the wardrobe for any swimmer. Because of that, it will be important that you focus on the style and material that will best suit your needs.
Warm-Up:  200 freestyle best technique, 200 Individual Medley, 100 breaststroke kick, 100 kick butterfly-on-back, 200 freestyle best technique
20 X 25 repeating butterfly, backstroke, breaststroke, freestyle by 25s in that order
4 X 50 backstroke kick with swim-fins on
5 X 200 freestyle with swim-fins on with 15 seconds rest between 200s
Pull with swim paddles on 3 X 150 freestyle, 50 breaststroke
4 X 50 fly, 50 back
4 X 50 back, 50 breast
200 Indvidual Medley
Warm-down:  200 super-slow tai chi-style freestyle
Total:  4300 meters or yards
back to the top of swim suits page

---

Don't just build a website, build a web business!
Beauty is just a click away! Visit me, your Independent Beauty Consultant.
---